Seaspan Joins the Rush to Sign Up for Starlink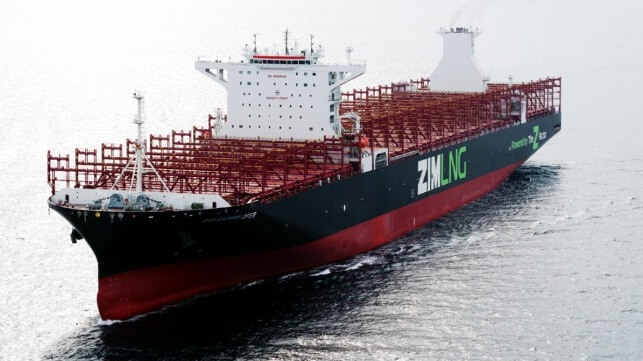 Container ship owner Seaspan has joined the rush and reached an agreement with SpaceX to deploy Starlink internet connectivity across its fleet.
The company tested out Starlink's internet service in early 2021, and Seaspan was an early user of the Starlink flat panel antenna. It trialed the service through 2022 and received positive feedback from seafarers, Seaspan said in a statement. The installation of Starlink allowed the company to provide its crewmembers with nearly unlimited bandwidth, an almost unheard-of luxury. In many corners of the industry, seagoing employees often have a data quota and may have to pay for some or all of their own internet access, if their vessel has satellite connectivity at all.
Based on the positive results, Seaspan is now rolling out Starlink across its entire global fleet of 130-plus boxships, along with cyber risk management tools to ensure security.
"This collaboration with SpaceX Starlink supports Seaspan's strategicvision of treating any vessel no differently than a remote office from an IT Services and Support provision perspective," said Chris Sepp, Vice President of Information Technology at Seaspan. "Crew feedback has been overwhelmingly positive."
Starlink's low latency and cable-like bandwidth first won over users in the data-heavy cruise industry. Carnival Corp. started its Starlink rollout in December with the Carnival Cruise Line and AIDA Cruises fleets, and it plans to add Starlink to other brands, including all of Holland America's fleet. Royal Caribbean and Hurtigruten were early adopters, and NCL, Silversea and Windstar have also joined in. Other commercial maritime users include Eastern Pacific, Columbia Shipmanagement and Anglo-Eastern.
Many maritime customers opt to access Starlink through third-party satcom service providers, which offer integrated data packages with a combination of LEO and GEO broadband, L-band SOLAS backup, 5G connectivity for coastal waters, and integrated Wifi for pierside connections. This has appeal for some operators for the ease of access and the high redundancy of using multiple connectivity services. Some larger operators with deep in-house IT expertise (like Seaspan and Carnival Corp.) have contracted directly with SpaceX and managed the integration process on their own.
While Starlink has a clear cost advantage per megabyte and is building a reputation for high speed, incumbent satcom operators are competing on other metrics. Traditional connectivity providers argue that they can better provide value for maritime in other ways – like guaranteed-uptime for mission critical applications, SOLAS compliance, guaranteed access in certain nations where connectivity is restricted, or more consistent coverage over remote high seas regions. By installing multiple satcom services and taking an "all-of-the-above" strategy, many customers switch their connection in real time to pick the lowest cost and best service, using each form of connectivity to complement the others.